The Tubbataha coral reef is a protected area of the Philippines that floats in the Sulu Sea.  This coral reef system is comprised of two large coral reef atolls called the North Atoll and South Atoll.  The smaller Jessie Beazley Reef is also part of this reef system, making this reef system total some 374,000 square miles.  The entire reef area was declared a National Marine Park in 1988 – but this hasn't prevented the most serious danger to the reefs here – destructive fishing.
This reef was only recently discovered in the 1970s by divers who were exploring greater depths of the waters. And when you look at this reef's  on a satellite map, it seems a wonder it was ever discovered as it is quite alone out there—one teeny underwater island in the middle of the Sulu Sea.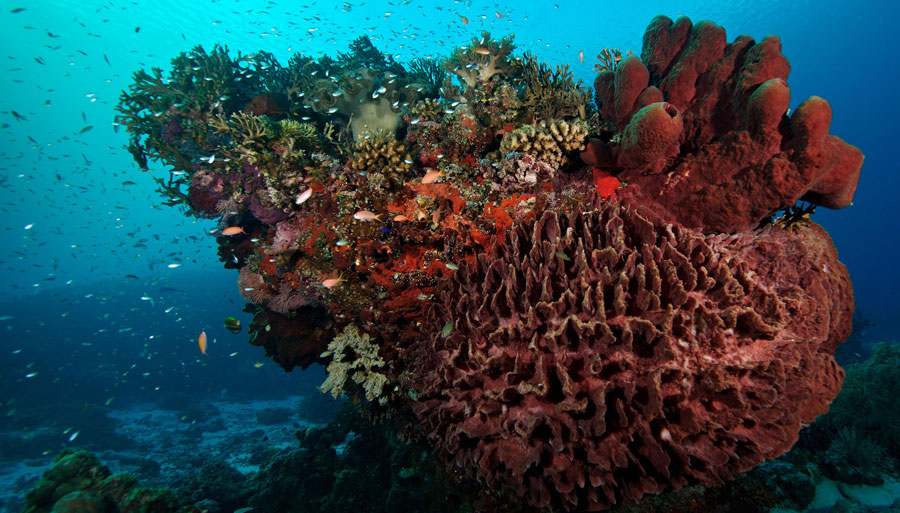 Isolation from Mankind has Produced a Wonder of the World in Natural Beauty
However, this excessive isolation and the fact that it was not known about until recently, has vastly protected this reef from the kind of damage human hands and practices wreak on coral reefs. It is still pristine and visited by thousands of very comfortable, happy marine species.
The Most Untouched Coral Reef in the World
The Tubbataha reefs are unique in that they are designated as the only protected area in the Philippines. The reefs were declared a World Heritage Site by UNESCO, The United Nations Educational Scientific and Cultural Organization, in 1993.
UNESCO's World Heritage Centre calls Tubbataha Reef Marine Park ''an excellent example of a pristine coral reef with lagoons and two coral islands. UNESCO practically jumped at the chance to protect these undamaged reefs that lie in the heart of the coral triangle, offering the world the rich beauty of the coral world to witness and be inspired by.
So, these reefs are a particular sight to see, probably closer to what reefs looked like when the world was much healthier. People who have visited Tubbataha reef say it is a sheer wonder—the most beautiful place to see in the entire world.  In fact, the Tubbataha coral reefs were recently nominated as one of the Seven Wonders of the Natural World.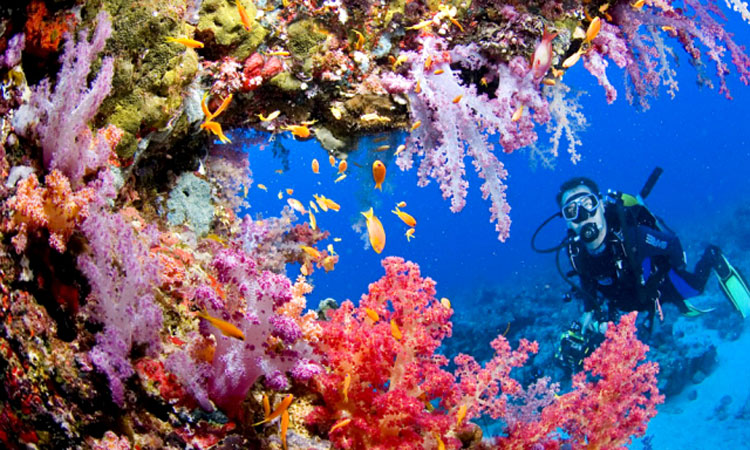 The number of corals and species of fish in the Tubbataha Reef rivals that of the Great Barrier Reef. Some 350 species of coral dwell here as well as five hundred species of fish that have been documented so far.
These reefs are also home to two highly endangered species of sea turtles, the hawksbill turtle and the green turtle.
Because this reef is located in the Coral Triangle, the reefs are very rich in biodiversity. Over 1,000 species of marine life call these reefs home, including huge manta rays, clownfish, lionfish, moray eels, Napoleon Wrasse (popular for photo ops with divers), Giant Trevally (otherwise known as "jacks), eleven species of shark, thirteen dolphin species, hawksbill sea turtles, hammerhead sharks, parrot fish, and the rare Moorish Idol.
In the Friday, November 28th, 2008 issue of the online journal, the International Heritage Tribune, Ron Van Oers, a UNESCO program specialist said something about these reefs too amazing not to quote at length:
I was absolutely stunned by the enormous abundance and diversity — really in the thousands,  . . . Go underwater and let yourself drift for 45 minutes. You'll be surrounded by thousands of individual species of fish. I saw a family of 50 humphead wrasse grazing close to the reef. They didn't move at all, and I could watch them for several minutes. I've been diving almost everywhere, but have never seen a family of 50 humphead wrasse this big. It was amazing. This is a true World Heritage experience. And that is quite rare nowadays.
                                                (whc.unesco.org/document/105657)
Great Drops to Explore and Other Wonders
Like the Apo Reef, the Tubbataha Reefs are very popular with divers because the atolls feature many "walls" with huge drops that divers can explore. These walls, rich in algae and soft corals, also attract the many beautiful fish who live here.
The coral caves protect a wide array of endangered species of sea birds and less endangered birds as well.
CNN recently voted the Tubbataha Reefs as one of the Top Eight Dive Sites in the World. In 1988, due to the voices of both scuba divers and scientists, the area was declared a National Marine Park.  This was an effort to protect the area from the kind of destructive fishing that was damaging corals here.
The Major Threat to Tubbataha Reef: Poaching, Destructive Fishing, Fishing for Endangered Species
In the 1980s, after the discovery of Tubbataha Reef in the 1970s, fishermen began preying on the reef area because some of their fisheries in other areas were so depleted that they needed a new resource for fish.
Yes, these reefs are remote. But their very remoteness has also left them vulnerable to fishermen, using quick, sure fire methods to get in and get out of these protected reefs quickly, with nets full of endangered fish.
Dynamite and Cyanide?
These fishermen were also using highly destructive fishing techniques such as dynamiting these beautiful reefs and then dazing the fish with cyanide. Huge areas of corals are damaged by these fishermen, not to mention the disturbance to the delicate ecosystem here—and the thousands of precious species of fish, caught and sold for exorbitant prices because of their rarity.
Topshells
One serious problem is that, at night, people are sneaking into these waters to steal these small shells called "topshells," which are used in jewelry, buttons, – all kinds of things the people sell to make money
These topshells are necessary to the functioning of the entire reef system in that they act as cleansers of the coral reefs, preventing them from being completely overtaken by algae, which would leave them very vulnerable to disease.
A Ray of Hope – A Reef Allowed to Heal Itself
Even though the reef has suffered other damage from climate change and crown of thorns starfish, like other reefs – unlike other reefs, because the Tubbataha reefs are relatively undisturbed, they can repair themselves naturally, if they are kept undisturbed, floating in healthy, un-poached waters where they can heal and thrive.